What's New At Flax: Sales, Promotions & Helpful Ideas
Every month, this is the place to look for sales, promotional items and helpful ideas related to picture framing, picture hanging and other related topics.
March Mat-Ness is back!
We guarantee it: let us show you a single mat to frame your paper artwork, photo, poster or, even,3-D object. With just that one mat on it, pushing the frame away from the artwork, it looks a lot better than framing edge to edge. Now, let us put a second, contrasting or accent mat underneath the first mat and it will look even better.
And if you like a double mat, wait until you see what a triple mat looks like: it's richer looking and even more visually appealing. So, whether you select a single or a double mat, we'll help you pick out a FREE mat to put underneath it/them and it will look dramatically better!

*Notes:
(1) The free bottom mat must be a paper surfaced mat and not a fabric-surfaced mat.
(2) Framing project must include purchase of a custom frame.

Promotion runs Tuesday, March 9th through Saturday, April 3rd, 2021. Orders must be placed during that time frame to qualify for the free matting.
*********************************************************************************************************************************
While you are getting a free mat for your framing, consider upgrading the kind of glass you put on your frame. You will thank us for it later!


Framing with anti-reflective glass: All the options explained



We ran across a very interesting framing project on the Tru-Vue Glass's website that showed how the author designed a very cool shadowbox frame with multiple layers of anti-reflective glass and plexiglass, where coins were being displayed, floating at different depths. It pointed out how you can frame 3-D objects floating at multiple depths to achieve a much more visually interesting display.

To read the article in depth, go to: https://tru-vue.com/2020/10/museum-glass-is-the-secret-to-this-beautiful-coin-shadowbox

Below are some images from the article showing the overall frame, a closeup of the coins floating on different glass layers and a cross section schematic of how it was designed:



Images shown courtesy of the author, David Lantrip, and the Tru-Vue Glass Company.
To read the full article about this project, go to: https://tru-vue.com/2020/10/museum-glass-is-the-secret-to-this-beautiful-coin-shadowbox

Glass and Plexiglass Options
Most types of glass can be divided into two basic categories: Reflective and Anti-reflective. Reflective is what you find in all ready-made, off-the-shelf picture frames. You can see yourself in the reflection on it. Anti-reflective and Reflection Control (also called Non-glare) have a different surface treatment that cuts down or nearly eliminates reflection, though they achieve it in different ways.

Reflection control has an etched surface (a frosted look) that cuts down on light reflection. What it also does is soften the sharpness of the lines in the artwork and dulls the colors a bit. We have found that it works well on large pieces of art where the details are not small. Also, if you have a lot of windows, sometimes it is better to use Reflection Control Glass or P99 acrylic (non-glare plexiglass) to cut down the glare. Where you have controlled lighting and not a lot of direct sunlight on your art, Anti-Reflective glass is superior. Under those circumstances, it is nearly invisible.

Tru-Vue anti-reflective glass comes in 3 different categories: Museum Glass (99% u/v protection), AR Glass (78% u/v protection) and Ultra-Vu (70% u/v protection). Museum is the most expensive and Ultra-Vu is the least. While they all look the same, the u/v protection factor needs to be considered relative to the value of the piece being framed or its sensitivity to fading. Remember: once your artwork has faded, you cannot fix it.

They also manufacture an anti-reflective plexiglass called Optium Museum Acrylic. This amazing product has every feature you could want in a glazing medium. It is anti-reflective, 99% u/v filtering, scuff resistant (plexi, normally, scratches more easily than glass) and anti-static (most plexi has an electrostatic charge). It, also weighs about 60% of what glass weighs and is shatter resistant. So, if you have a large, important work of art that needs to be under a glazing medium, Optium is the best choice if it is in the budget.

Our basic glass is known as Conservation Clear. It is normally reflective, but has a 99% u/v filter built into it and costs less than the anti-reflective glasses. It is also available in plexiglass form (called OP3) as well as U/V filtering Non-glare (called OP3-P99). And, yes, we still carry plain glass (only filters 40% of u/v) and regular, clear plexiglass (no u/v protection). They should only be considered if the budget won't support the more protective glazing mediums.

Our framers will be sure to recommend the most appropriate glazing for your framing project. Feel free to ask to see a sample of whatever they are recommending.
***************************************************************************************************************************************************************************************
Something else to consider, while selecting your matting (and getting your free mat): Let us show you what a fillet does to supercharge the visual appeal of your framed art.

Framing with "Fillets" (Demystified)

A "fillet" (the letter "t" is pronounced, so it does not sound like "fillay") is a miniature frame that can be inserted into the opening of a picture mat or attached to the lip of a frame to provide additional decoration and accent. When being added to a mat, the mat gets a reverse bevel on the opening so that fillet can be attached directly to the mat opening without seeing the white line that appears on the mat opening from the normal 45 degree bevel that is cut into it. Fillets come in all manner of colors and finishes. The sample photo, below, shows a natural wood colored fillet surrounding the opening of the medal. The fillet echoes he frame.



The sample, below, of a retirement frame for the Federal Reserve Bank of Chicago shows a fillet stacked on the inside edge of the frame. It breaks up the black frame and black linen mat continuum and gives it an extra special enhancement, making it look richer.


Ask our framing team to show you what a fillet looks like and what it can do to enhance your framing!



If you have questions, call us at 312-431-9588[ or stop in for a free, no-obligation design consultation.
We are here Monday through Friday 9-5:30, Saturdays 10-5.

****************************************************************************************************************************
Shadowbox Frame Lit Up with LED's Behind Pinball Art



Our client brought in a colored acetate cell salvaged from an old pinball machine that dated back to his high school or college days. He wanted it framed and lit up inside, so that he could hang it in his music studio (he is a professional musician). We selected an Evald moulding that has a beveled face with a yellow pinstripe all around. This worked well with the words "Rock", which are outlined in yellow. The art is sandwiched between two sheets of clear plexiglass. Originally, we were going to put a piece of opaque white plexi at the back of the art, but it was too opaque to allow the lights to shine properly. We went out and bought a 16 foot strip of LED lighting that we had, originally, planned to attach to the inside, vertical face of the frame all around. The frame was not deep enough to put any other kind of lighting within. This, again, did not provide enough illumination for the whole piece. So, we cut a sheet of white Alumalite to the same size as the plexiglass (about 19 x 25). Alumalite is an aluminum sandwich that has polypropylene corrugate in the middle between the two faces of aluminum. To that we attached all 16 feet of LED lighting. The white coating allowed the light to reflect outwards. Originally, we were going to run it up and down across the whole panel. We did so and just taped it in place to see how it would light up the artwork. What we found was that it needed to be more concentrated behind the image of the words "Rock" and the "band members" to give the best effect. Here are some images of how that was done:



We used flat metal offsets that were bent, slightly, to hold the LED light strip in place at strategic points. While the LED light strip has an adhesive back, we could not make it turn the corner and stay flat. Therefore, we needed to create metal hold-downs which, as you can see, worked out just fine. While 16 feet of LED lighting strip was adequate, 20 feet would have been better. It still turned out great and we learned a lot from this project. It was the second LED lighting project we had done. The first, shown in the Framescape Gallery, was a trumpet
.
Shadowbox Frames For
Keepsake Sweaters


A client from out of state contacted us to see if we could frame a pair of sweaters that had belonged to her late father in law. He had, apparently, rarely been seen without one of them on, so there was a lot of sentimental attachment to them. We, of course, said that we would be happy to frame them and came up with some designs for her. After a number of false starts, we agreed upon a layout for the two shadowboxes and framed them for her. Both were sewn down onto fabric covered mat boards. The client wanted a burl wood frame for the white v-neck and a walnut frame for the blue cardigan. The Walnut frame was a single, tall, flat faced cap from Vermont Hardwoods. The burl wood frame was, actually, two frames attached together to create a frame with a burled face and the proper depth for the sweater. Both frames use plexiglass. We ended up boxing each one up and then putting the pair in a wooden crate to ship to her.

Chicago Blackhawks Stanley Cup 2013/2015 Team Shadowbox Frame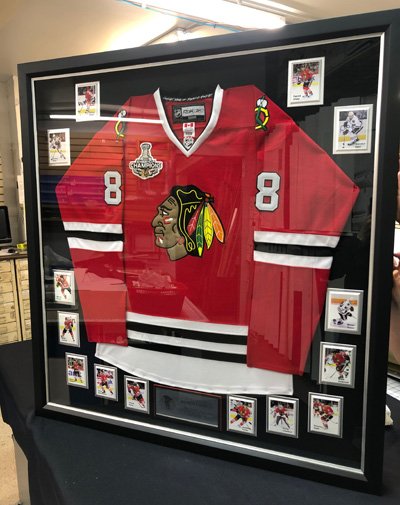 2013 & 2015 Chicago Blackhawks winning team jersey box frame.This is a Patrick Kane jersey (not autographed) that we purchased, along with specially printed team cards from our friend, John Hansen, that showcases the Stanley Cup winning team that won in 2013 and 2015. It has each card mounted on 8 ply mat board with a large outer bevel, then mounted on a silver mat board to give it a metallic halo (it echoes the Stanley Cup logo on the jersey along with the silver fillet inserted into the lip of the picture frame). If you are a collector of sports memorabilia, let us collaborate to create something special for your favorite jersey or sports collectibles. Check out that section on our

Framescape Gallery

section of this website.



Columbian Exposition Memorabilia Frame




1893 Columbian Exposition map and ticket memorabilia frame
Our client is a collector of Chicago Columbian Exposition items and brought us several projects to work on. The above is one of them. It has metal tokens as well as tickets from different days for different events. All these are matted and positioned below a souvenir map showing an aerial view of the Exposition in 1893. This all happened down close to where the Museum of Science and Industry is, today, around 50th street. Do you have a particular passion for historical artifacts that you would like to be able to look at each day? It is way more fun to have them at eye level than in a box stored in a closet. Bring them in and let our PPFA-certified framing designers show you how we can make the most of them and create something really amazing for you to display in your home!

Custom Octagonal Frame


Custom octagonal frame and mat with cast silver ornaments
This client brought us a treasured frame that looked nearly identical to this. Problem was: It was in horrible shape. We selected a moulding very similar to what they had and duplicated the frame, mat and glazing. They were amazed and very, very happy. Our computerized mat cutter lets us do mat designs, like the one shown, very easily. We could do that for you with a collage of family photos, stamps, cards, labels, anything that you collect, and get very creative. Let our very experienced framing team sketch out, for you, something special.

We offer a no-cost, no-obligation design consultation. Furthermore, we do not require payment for the whole thing up front (usually, a 50% deposit is asked for) and we offer a 3% discount if you pay by cash (so we don't have to pay the banks 3% to process our transactions. You get to pocket the 3%!).

We make it simple to get your things framed!

Got questions? Call us at 312-431-9588 during our hours 9-5:30 Monday through Friday, 10-5 Saturday. We are there for you 6 days a week to help you with your framing projects. Or: you can either email us at: info@flaxartandframe.com or go to our

Contact Us

page.