What's New At Flax: Sales, Promotions & Helpful Ideas
Every month, this is the place to look for sales, promotional items and helpful ideas related to picture framing, picture hanging and other related topics.
Picture Framing in 2021: What to expect at Flax Art & Frame
On
Covid-19:
We have seen Covid-19 up close and personal and it remains our goal to prevent it from endangering our framing team or our clients. With that in mind, we observe these protocols:
---Everyone wears a mask, all day, in our framing shop. Everyone. That means our framing team, our clients, any delivery workers, any building personnel.
---We sanitize the design counters after each consultation upon the client's departure. We keep tons of 99% Isopropyl alcohol around in spray bottles for this purpose (as well as to clean glass).
---There is a hand sanitizer stand available just as you walk in if you wish to disinfect your hands either coming in or leaving. It is there for your use and safety.
---We practice social distancing with our clients during the design consultation. That means that we stay on one side of the counter at all times and ask that you do the same, even if you want to take a look at a frame corner sample. Just ask. We will be happy to indulge you.
---We offer curbside pickup and dropoff. If you want us to come out and get the item to be framed, just call us from your car. We will come right out and get it. Then, we can design a number of framing combinations for you to select from and we will either email them to you for your perusal, or Brian Flax will FaceTime with you on his iPhone and show you what was selected and get your feedback. Either way, we want you to be happy, safe and amazed by what we can do for you.
---The vaccination rollout, while maddening slow, will help to halt the spread of Covid. With that in mind, we have mandated that our framing team will be required to be vaccinated as soon as vaccines are available locally. No exceptions. We are unanimous in our determination to be vaccinated. We hope you will do the same.
Some samples of recent work and their back-stories: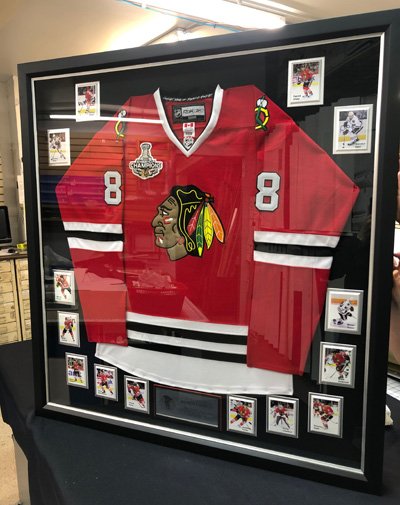 2013 & 2015 Chicago Blackhawks winning team jersey box frame.
This is a Patrick Kane jersey (not autographed) that we purchased, along with specially printed team cards from our friend, John Hansen, that showcases the Stanley Cup winning team that won in 2013 and 2015. It has each card mounted on 8 ply mat board with a large outer bevel, then mounted on a silver mat board to give it a metallic halo (it echoes the Stanley Cup logo on the jersey along with the silver fillet inserted into the lip of the picture frame). If you are a collector of sports memorabilia, let us collaborate to create something special for your favorite jersey or sports collectibles. Check out that section on our

Framescape Gallery

section of this website.
1893 Columbian Exposition map and ticket memorabilia frame
Our client is a collector of Chicago Columbian Exposition items and brought us several projects to work on. The above is one of them. It has metal tokens as well as tickets from different days for different events. All these are matted and positioned below a souvenir map showing an aerial view of the Exposition in 1893. This all happened down close to where the Museum of Science and Industry is, today, around 50th street. Do you have a particular passion for historical artifacts that you would like to be able to look at each day? It is way more fun to have them at eye level than in a box stored in a closet. Bring them in and let our PPFA-certified framing designers show you how we can make the most of them and create something really amazing for you to display in your home!


Custom octagonal frame and mat with cast silver ornaments
This client brought us a treasured frame that looked nearly identical to this. Problem was: It was in horrible shape. We selected a moulding very similar to what they had and duplicated the frame, mat and glazing. They were amazed and very, very happy. Our computerized mat cutter lets us do mat designs, like the one shown, very easily. We could do that for you with a collage of family photos, stamps, cards, labels, anything that you collect, and get very creative. Let our very experienced framing team sketch out, for you, something special.

We offer a no-cost, no-obligation design consultation. Furthermore, we do not require payment for the whole thing up front (usually, a 50% deposit is asked for) and we offer a 3% discount if you pay by cash (so we don't have to pay the banks 3% to process our transactions. You get to pocket the 3%!).
We make it simple to get your things framed!
Got questions? Call us at 312-431-9588 during our hours 9-5:30 Monday through Friday, 10-5 Saturday. We will NOT be open on Friday, January 1st (New Year's Day) but WILL be open Saturday, January 2nd. Our regular hours resume going forward (the next holiday we will be closed is Memorial Day). We are there, for you, 6 days a week to help you with your framing questions, projects, repairs, etc.

You can also email us at: info@flaxartandframe.com