What's New At Flax: Sales, Promotions & Helpful Ideas
Every month, this is the place to look for sales, promotional items and helpful ideas related to picture framing, picture hanging and other related topics.
Here's an update on what's happening after Thanksgiving at Flax Art & Frame, as well as how we are dealing with Covid-19:


On
Covid-19:
Our staff has managed to avoid Covid-19 infection since the shutdown in March. We practice social distancing and wear masks whenever we have visitors in our shop. We sanitize sales counters during the day and offer hand sanitizer to all who enter our facility. Anyone entering must wear a mask or face covering (no exceptions). We want our clients to feel safe during the time we collaborate with them when creating wonderful framing designs!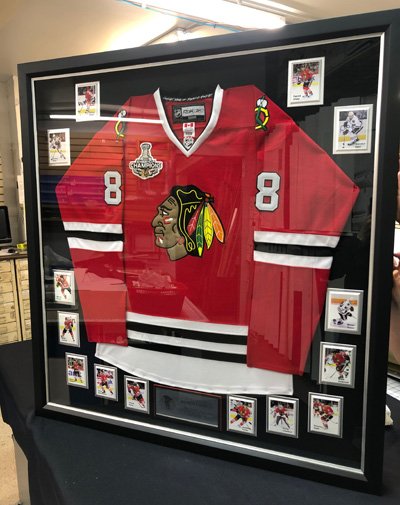 2013 & 2015 Chicago Blackhawks winning team jersey box frame.
Now that you have had over 9 months to go through your closets, clean out your basement and garage, sort through all your favorite memorabilia and souvenirs, it is time to do something with all those treasures. How about framing them?
1893 Columbian Exposition map and ticket memorabilia frame
Custom octagonal frame and mat with cast silver ornaments
Want it for Christmas? Please bring it in ASAP and don't procrastinate! If you cannot make it in, we can send a messenger to pick it up. Or, if you are being extra cautious about Covid-19, you can pull up in front with your car and call us from outside. We will come out and get the items to be framed. Then, we will design framing for it and send you photos of proposed frame and mat combinations for your approval.We call that concierge framing.
We make it simple to get your things framed!
A note about due dates and deadlines: This year, more than any year in memory, our frame moulding suppliers have been struggling to get our orders to us. Where we used to get 2 deliveries a week in the Chicago Loop, we are down to one. They are, also, having supply chain issues and are back-ordering items on us more than we can ever remember. Further, we are experiencing more quality control issues than ever due to a loss of experienced frame cutters and builders art our suppliers from layoffs and furloughs. But don't worry: We are very determined to make sure your framing looks superb.
So: Don't wait! Give us as much time as possible to complete your framing project.
Got questions? Call us at 312-431-9588 during our hours 9-5:30 Monday through Friday, 10-5 Saturday. We will NOT be open on Friday, December 25th (Christmas Day) or Saturday, December 26th to give our staff a 3 day break. We will, also, be closed Friday, January 1st, 2021 but WILL be open Saturday, January 2nd.

Got questions? Call us at 312-431-9588 during business hours or
email us at: info@flaxartandframe.com