Wedding Canvas by Tadaomi Kawasaki


We were contacted, in early 2021, by the artist Tadaomi Kawasaki, based out of Burnaby, British Columbia (near Vancouver). He had a client in the metro Chicago area who had commissioned him to paint a mural canvas of their wedding. Only problem: it was 72 x 48" in size and it would be impractical to ship it stretched from British Columbia, Canada. We, of course, agreed to stretch it for him and deliver it to his client.
Tadaomi has a very colorful, vibrant palette that he uses to create the landscapes that he paints. We stretched the canvas on Heavy Duty stretchers with crossbars on the back to ensure stability and squareness when stretching. His client was very happy with the end result, though they did not opt to frame it at this time. We can do that for you, too. Stretched canvases can be hung via heavy duty D-rings , one on each side, on heavy duty picture hooks. If you wish, you can order your canvas from the artist (printed or painted, makes no difference to us) and have it shipped directly to us. We will stretch it and deliver it to you in the metro Chicago area.
Feel free to call us or email us for a price quote. What we need to know, before quoting you is:
(1) What is the size of the painted face of the canvas (i.e. what you see on the front of the fully stretched canvas)?
(2) What is the amount of extra canvas on the edges?
(3) Are the outside, vertical edges of the canvas white or painted?
(4) Would you like us to frame the canvas or do you wish to hang it unframed, just stretched?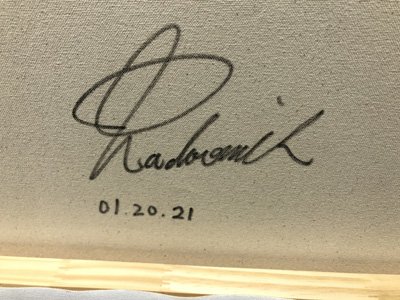 If you wish to learn more about the artist Tadaomi Kawasaki, visit his website at:
www.tadaomi.art