Skinny Girl Beverage Imprinted Snowboard Plexiglass Box
Our shop manager, Dana, had a PR firm client that brought in a snowboard that had a promotional theme printed on it for a cocktail product launch out in Colorado at a ski resort. This was to be framed in a plexiglass box with an inscribed metal plate at the bottom that thanked the manufacturer for their business and commemorated the event for the executive in charge.
Dana created a wooden strainer covered in masonite and then an inside-out matboard shadowbox slipped over that to cover the outside of the strainer and masonite platform. The mat board used is Crescent 9744, a white mat board with a dimpled surface similar to a golf ball (to simulate powder snow). If you have ever skied out west in the winter, when it is very cold powder snow has the consistency of round styrofoam beads. This mat board gives that same impression.
The plexi box is 15" wide and 64" tall. We had to pack it up and ship it to our client's client, which made for a very long, heavy, awkward package (but it got there o.k.).
Frame designed and executed by Dana L. Fisher, MCPF
Photos by Dana and images shown by kind permission of Allison Salzman of Walton-Isaacson Agency.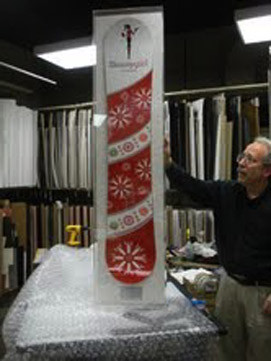 Note the inscribed plate at the bottom. Also you can see the platform to which the snowboard is attached inset into the back opening of the plexi box.