Antique Oval Oil Portraits
A client of ours from the Office of the Secretary at DePaul University came to us with two vintage, restored, oval portraits in oil on canvas of 2 historical figures linked to St. Vincent DePaul that needed to be framed in a style similar to a rectangular oil we had done for him at a previous date. We had ordered in a special fabric from Raphael's Fabrics that was a teal colored silk and done a hand wrapped mat in it with a gold foil matboard underneath it just peeking out.
Doing this with an oval opening was a bit more challenging, since the wrapped mat would require a lot of cutting and folding to get the fabric wrapped around an oval opening. See the photos for the details on how Dana, our shop manger, accomplished this task.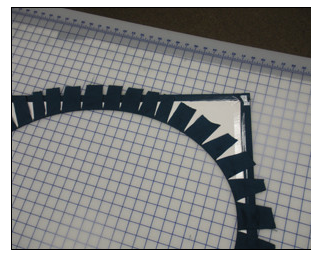 We used an Engelsen #2921 gold scoop frame 2 3/4" wide, Tru-Vue Museum glass to protect the matting and canvases and went back to retrofit the previously done rectangular portrait of St. Vincent with Museum Glass. Gold frames next to strong colors always provide a wonderful contrast. While we would have preferred to use a fillet to surround the oval painting's image, they only really lend themselves to rectangular mat openings. We are aware that there are flexible fillets on the market now that will allow you to do ovals and circles, but we have never used them since they are so new. Further, we had a very short time window in which to do this job. We, therefore, used a Bainbridge 4301 Faberge Old Gold mat between the painting and the fabric-wrapped oval upper mat.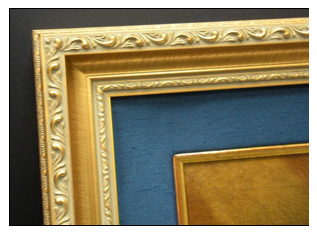 Framing designed and executed by Dana Fisher, CPF
Image by kind permission of J. Turner of DePaul University