Michael Jordan Photo Print in Multi-layer Frame and Matting
One of the really fun aspects of designing picture framing is like solving a puzzle: What combination of framing components will show off the framed item to its best advantage? What mixture of frame components will create a synergy, a frame that is breath-taking in its scope, design and functionality? What combination of mat colors and widths will make the matted item really pop? Framing Team member, Kelly, has this down pat. She loves color and delights in creating combinations of frames (called "stacking the moulding") that gives birth to designs that you would never think of but, in the end, look p-e-r--f-e-c-t!
Her client has brought Kelly all kinds of celebrity images and artwork to frame and absolutely loves the framing designs that Kelly comes up with. The above photo of Michael Jordan (probably in his personal gym at what was his home in Highland Park, Illinois) shooting some hoops. The pose is quintessential MJ.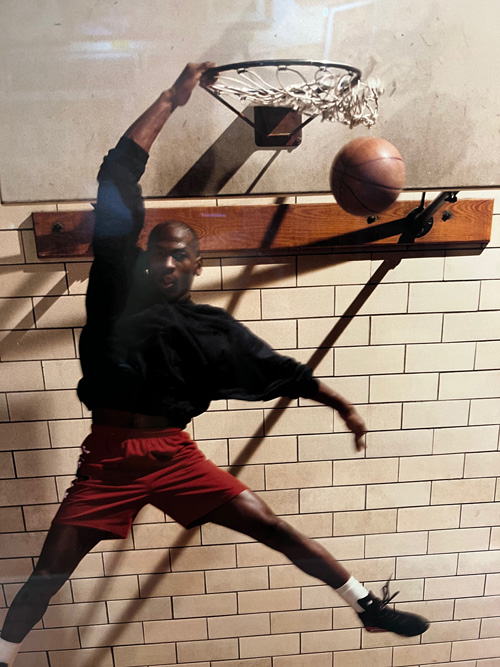 Kelly selected matting for it, first, that became a triple mat (i.e. three layers of matting, with different amounts of each layer showing). The top (and widest) mat is an Artique 3702 "Mink" (brown suede). Next to that is Bainbridge 4452 Peach Melba Tatami Silk, with the innermost mat layer being Crescent 69745, a mat that has the same color and texture as a basketball. This mat layer has a black core, so when the opening is cut, the beveled edge is black, not white. Total matting width was 4 inches.
The glass used is AR90 by GroGlass. This glass filters out 90% of harmful UV rays and is nearly invisible, being Anti-Reflective and totally clear.
The frame layers are as follows: The main, outer frame is a Larson-Juhl 663175 Cranbrook Shadowbox Natural Walnut 1" wide. Stacked inside that is International Moulding TC805410, a 1 1/2" flat gold block. The inside dimension of the frame (i.e. the glass size) is 32 x 32".
Framing designed and executed by Kelly J. Spruth, CPF
Photography by Brian Flax, CPF
Images by kind permission of our client, Anjali C.