Matching Marathon Medal Framing
A client brought in a bag full of medals she earned running a bunch of marathon races, along with a framed one that she wanted us to try to duplicate. We picked out matting for each one that complimented the particular medal and color schemes that went along with them. Her only requirement was that the framing look much like the sample. The light colored strip of wood that surrounds each mat opening is called a
Fillet.
We did not have a fillet available that was exactly the same width as her sample, but we came close.
We used different mat boards to back each of the medals, trying to find a color or texture that called out some feature in the medal. The frames we used were Gemini 2951 Natural Ramin Wood . The fillet is a Natural Maple by Larson-Juhl, #160NAT. The mat we used for the LaSalle Marathon medal was a Bainbridge 4289 Dusty Ash Glazed Linen. The Marine Corps. Marathon medal was mounted on Bainbridge 8669 Black Shadow (dark gray) matting. The Surf City medal got mounted on a Bainbridge 4402 Grasscloth Dunes mat to call out the beach esthetic. The frame with the semi-circular medal was the original we were asked to use as a pattern for the other 3. All frames used ArtGlass U/V (Museum) antireflective glass.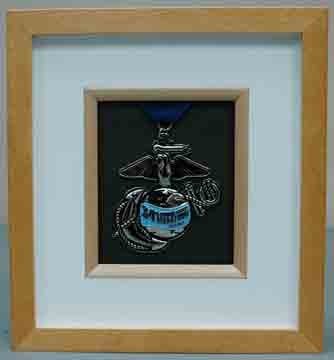 If you are an avid sports competitor with a box full of medals, ribbons, pins, etc., bring them in and we will collaborate to come up with a really interesting design to frame them and get them up on the wall for you to enjoy. You can't enjoy what you can't see!
Framing designed and built by Brian D. Flax, CPF
Images shown by kind permission of J. Betz.