Jersey Boys Musical Collage



The musical,
Jersey Boys
ran in Chicago, continuously, for over 2 years and sold out all the time. One of our clients enjoyed it so much and went back to see it again with a family member. This frame shown, here, represents a Christmas gift to that family member. It consists of a promotional poster for the show that has been autographed by all the cast members, a complete Playbill program (held in place in a "sink mat") and the two original tickets for the show.
The frame is by Studio Moulding, called "Array Ebony". It has a red undercoating under the matte black lacquer and has the edges exposed to show the red undercoat. It is subtle and contemporary and looks great with black suede or red core black mats by Crescent (Britecore Mats). Into this frame, we have stacked a Larson-Juhl "enhancer" that comes in a silver beaded pattern, what I like to call Marquee Lights (like you'd see around the marquee of a movie house or live theater venue). The glass is Tru-Vue Conservation Clear U/V filtering glass. The mat is a red-core black mat by Crescent #CBR34921. Glass size is 26 3/4 x 26 3/8" (overall size is about 2" wider in each direction).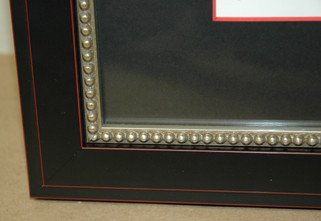 The tickets were surface mounted on black paper peeled off a piece of the same mat board and adhered to the acid-free foam board backing board behind the mat, into which we cut the sink mat (depression or hole) for the playbill to slip into, making it flush with the surface mat. There is an additional layer of board behind the sink mat layer. The frame is deep enough to accommodate all this.
Designed and executed by Brian Flax, CPF
Images shown by kind permission of our client.