Illinois Attorney General Lisa Madigan Shadowbox
Every shadowbox tells a story: It contains many items that our client was responsible for as Press Secretary for former Illinois Attorney General Lisa Madigan. While he (and she) has, since, moved on to a different career in the private sector, he wanted to preserve all the memorabilia that he had acquired while working in government. Dana designed a shadowbox collage that measured 46 x 32 (it had to hold a lot of stuff) using Studio 3120 Madera Coffee moulding, Anti-Reflective glass and an oversize sheet of Crescent mat board 89511. Note how some of the items in the frame turn the corner and travel up the inside, vertical face of the shadowbox: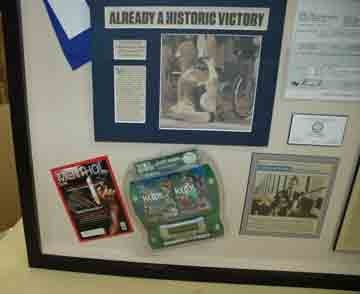 Sometimes, it improves the composition of the shadowbox collage to vary the angles at which some of the elements are mounted. By changing the heights of their mounting, as well the shapes of the platforms upon which they reside, you can add more interest and drama to the piece, such as what Dana did here in this shadowbox.
Frame designed and executed by Dana L. Fisher, MCPF
Photos by Brian D. Flax, CPF
Images by kind permission of Paul Gaynor