Hockey Jersey From College Days
Our client, owner of a small advertising firm, brought in to our shop a number of hockey jerseys for us to frame at the end of May, 2020 during the Pandemic. As if things weren't bad enough from that era, with everything shutting down and in-person visits somewhat difficult, we experienced the George Floyd riots (where George Floyd was killed by Minneapolis, Minnesota police during an arrest), where major Black Lives Matter protests erupted across the country and, in Chicago, where we are located. It just so happened that one of our framers had Emilio's hockey jersey on her work station, along with an autographed Vancouver Cannucks jersey.. That night, the entire block where our shop is located was broken into and looted by a mass of protesters and, frankly, opportunists. The result was that our frame shop was partially looted and someone decided to steal Emilio's jersey and one of the Vancouver jerseys. Consequently, we were able to get another Vancouver jersey autographed by the same player. However, the loss of Emilio's college jersey was devastating, as we had no way to replace it. However: being smart and resourceful, Emilio reached out to his college hockey coach, who was able to obtain one of the practice jerseys that Emilio had worn and, nearly 3 years later, it showed up at our shop. I was delighted to, now, be able to fulfill our client's wish: Frame his Jersey like we did the Vancouver hockey jerseys. The end result is shown above. That is me (Brian Flax) in the reflection of the frame taking the picture when completed.
Detail 1 photo shows the bottom of the mat border, where we have printed out and placed a photo of Emilio playing hockey in a college game, representing Mercyhurst University ( a private college in Erie, Pennsylvania). Note the double mat, with the matching Crescent 89877 Midnight Green mat on the bottom matting layer. The top mat layer and the background layer (behind the jersey) is Crescent 89889 Deep Blue. All mats were ordered in oversize, as the dimensions of the inside of the frame were 36 x 44" and we had to cut them out of 40 x 60" oversize mats.
Detail 2 shows the opposite bottom corner photo of the two teams greeting each other at the outset of the game (or, possibly, at the conclusion ) with the school logo in the middle in a circular mat opening to echo the logo shape.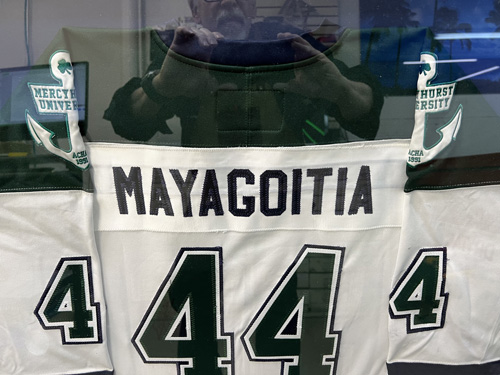 Framing design, execution and photography by Brian Flax, CPF
Images shown by kind permission of our client, Emilio Mayagoitia.