Collage of Vineyard Cards from Bordeaux, France
Our client is in the wine import business and went on a wonderful tour of the most famous French vineyards in the Bordeaux region of France a while back. While on the tour, at each vineyard, he and his colleagues got to tour the facilities, taste the wine, hear about the history of the place and get a feel for what made that particular place interesting. At each stop, the vineyard owner would give them a small, historical card printed with the history of the place, it's "nickname" and what looked like a Tarot Card character that epitomized the essence of the wine. Each card was approximately, 4 x 6", with rounded corners. There was, also, what looked like a paper place mat that was signed by the owners / staff of each vineyard where they stopped to sample, listen and learn. So, the collage that we designed and framed consisted of 4 of the vineyard cards (one for each vineyard that they visited) and 4 duplicates of the card with the back side exposed that contained all the historical data (the front of the cards had the vintage "Tarot" character on it). In the center, of it all, was the paper place mat.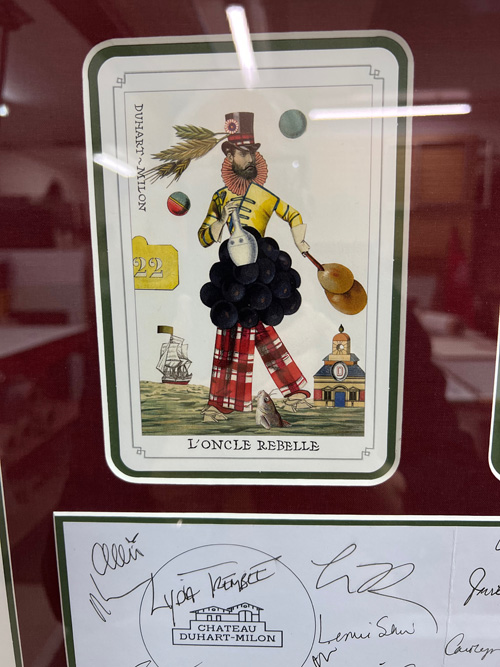 We used an Antique Gold AMPF1255 frame that had embossed decorative patterns in it and echoed the character of the vineyard cards drawings. The matting we used was a Crescent 7564 Maroon Linen over Bainbridge 8448 Jalapeno Green. We had our CMC (computerized mat cutter) cut the openings with radiused corners to mimic the shape of the cards. Glass was Tru-Vue Conservation Clear (99% u/v protection, normally reflective glass). The cards were floated in the mat openings with a small halo of the bottom green mat showing. The signed place mat was mounted on a piece of the green matting and a small amount of it was left to show all around its perimeter with an outward bevel. This gave it more significance as the central focus of the matting without taking away from the surrounding cards done in a "French Float" style.
Because we have so many different light sources in our frame shop, it is really difficult to photograph anything that has glass on its front without getting a lot of reflection of the surrounding furniture and equipment. We hope you get the general idea of the details of the framing project.
Photos, framing and all design by Brian Flax, CPF
Images shown courtesy of our client, Sean M.