Frame Within A Frame for 3-D Wall Sculpture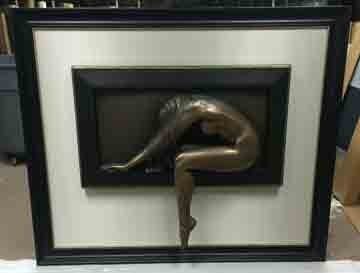 One of our clients, who always brings us really cool stuff to work on, presented our shop manager, Dana, with a bit of a conundrum: She had a bronze wall sculpture of a nude woman that appears to be climbing out of the picture frame, and she wanted us to create another framed platform to which this whole construct could be attached, to make the piece more dramatic. The client works from home and the things on the wall are a very important part of the work environment. This piece had great sentimental value for her. Dana visited her place, saw what was needed and figured it all out.
What Dana ended up doing was simple and elegant: She covered a sheet of Alumalite (an aluminum clad composite that has a corrugated plastic core) that was 50" x 40" in size with a few yards of a warm taupe-colored silk that matched the paint color in her condo. Then, Dana framed it in an Engelsen 2622 Antique Black over Red frame. She attached a pair of heavy duty 100 Lb. capacity picture hooks, hung the frame on the wall and then hung the original frame/bronze construct on the face of the silk-covered panel. A 3-D extravaganza! Take a look:





















Framing designed, executed and installed by Dana L. Fisher, MCPF
Images shown by kind permission of Penny Shapiro.