Chicago Blackhawks 2013 & 2015 Stanley Cup Team Jersey Collage Frame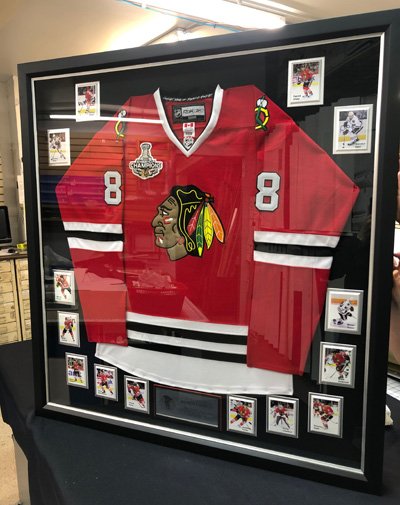 The Chicago Blackhawks, our town's premier hockey team, won the Stanley Cup in 2013 and 2015. This shadowbox frame was created to show the Stanley Cup Commemorative Jersey (it happened to be an non-autographed one from Patrick Kane), along with specially printed team cards (courtesy of our friend John Hansen) that showcases the Stanley Cup winning team that won it in both years. Each card was mounted on an 8 ply mat board with a large outer bevel and, theh, mounted onto a metallic silver mat board to give it a metallic halo (it echoes the Stanley Cup logo on the jersey, along with the silver fillet inserted into the lip of the picture frame. The plexiglass, inside the frame, is about 42" wide x 40" tall. The jersey is sewn down and the 14 different player cards are glued onto the black linen backing. The inside, vertical face of the frame is also covered in black linen. This frame was created as a display piece for our frame shop.
The inscription on the plate was laser etched with the Blackhawks logo. The plate describes what the frame is all about. It is mounted on a red-core, black mat board platform, with the outside bevel showing the red core of the mat board. It is particularly appropriate as it is a team color.
Framing was designed, built and photographed by Brian Flax.