CareerBuilder Canada Client
Gift
We have done a number of client gifts for CareerBuilder, a Chicago-based job search firm. Recently, someone from their office in Montreal, called to ask if we could create something for them to send to a prospective client if they sent us a web-based press release with the client's logo and some copy off a press release. We had the press release output on an Epson color printer in two sizes, with one normal size and one enlarged to blow up the client's logo. We, also, had to find and print out the blue and orange CareerBuilder Canada logo to include at the bottom of the mat.

The mat is cut from Crescent Brite Core 34921 red-core black mat board, with three openings and a "V" groove connecting the three boxes visually. We used True-Vue Conservation Clear u/v filtering glass to keep the cost down but still protect the contents from fading. We used a Nielsen #117 profile Brushed Satin Nickel aluminum frame to give it a clean, contemporary look. They asked us to do 2 of them (one for the client and one for their office wall) as shown below.

While it is our preference that the client supply us with all the materials to go into any framing project, the new normal is to send us jpeg photos, digital logos and typed out inscriptions for us to either typeset and printed onto card stock or have lasered or engraved onto metal or plastic plates. We are all about being easy to work with and providing a turn-key solution for your framing projects.
Here are the finished pair of framed press releases with the prospective client's logo and the CBC logo.
The whole composition is circumscribed with a "V" groove, cut half way through the mat board to expose, in this case, the red core. It bisects the two "keyhole" openings in the mat above and below the main opening.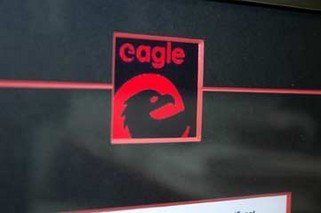 The prospective client's logo in the mat opening at the top of the composition. The red in the v-groove is a bit more muted than the red in the logo. but still more effective than a white mat core.
This photo shows the amount of space between the top keyhole opening and the main opening.