Bahamas Wedding Shadowbox


We framed this collection as a shdaowbox a few years back. The client attended a close friend's wedding that took place on an island in the Bahamas, and the invites and accompanying memorabilia required a frame with some "attitude" to set the mood properly. Our shop manager, Dana, had a lot of fun with this. Here are some photo details: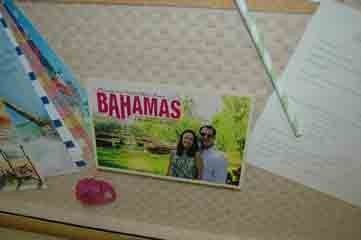 The client was giving this framed collage to the bride and groom for whom the wedding was given down in Nassau, Bahamas. The frame used was an Engelsen 2555 Gold Cross Leaf Cap and the mat was Bainbridge 4403 Dune Grasscloth, all done as a shadowbox with Conservation Clear glass. Glass size is 27 x 26.
Frame designed and executed by Dana L. Fisher, MCPF
Images by kind permission of M. Harrigan.