Skip Navigation
Website Accessibility
Nagle-Hartray Wall of Architectural Awards on Cable Hanging System
In preparation for the Chicago Architecture Foundation's "Open House Chicago" event, where 150 different buildings were opened up in a giant open-house October 19-20, we were asked to reframe a dozen architecture awards presented to Nagle Hartray Architecture at 30 W. Monroe in the very cool Inland Steel Building. We put them all in Framatic Fineline frames in white, size 13 x 19 and then hung them using an already-installed Arakawa Hanging System that they use extensively throughout their offices. Matting used was Crescent 2253 White Ragmat 100. We took down the old awards hanging on the wall and reframed some of them, in addition to hanging the new ones. At left is a "before" picture and at right is the "after" image: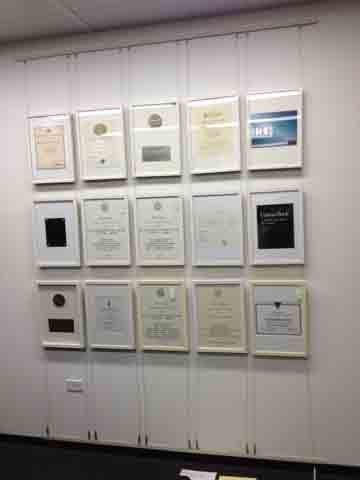 The frames in the original array were a white wood, some of which were starting to turn yellow. The Framatic Fineline frames gave a much cleaner look with a slightly more generous size filled by matting.
Images by kind permission of Nagle Hartray Architects.
Framing, photography and installation by Brian D. Flax, CPF