A Memory Locked Away
A long-time client of ours, Ken Price (public information officer at the Palmer House Hilton), came to me with a project that had a short time window, but needed to look spectacular and had to be done, nearly, from scratch. The master locksmith on staff at the Palmer House Hilton was retiring after 25 years and we needed to create something to present to him that commemorated his career and his denoument. I thought about framing a whole montage of old keys, but I did not want it to look like a frame full of old junk. So, what you see next is the concise, beautiful, resulting design: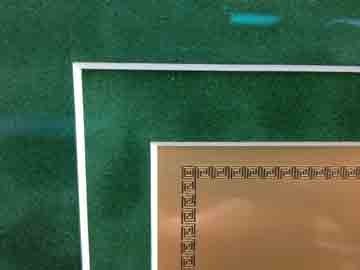 The frame is an Omega Plein Air closed corner gold metal leafed frame that is sized 20 x 16. The matting is a Kelly Green Crescent suede double mat under ArtGlass Water White Anti-Reflective glass. The brass plate was laser etched by our friend and colleague, Scott Kurtz of SHER, Inc. He has been our engraver for decades and does some great laser etching too. I had to create the art on the plate from scratch, and downloaded the key from a stock photo /clipart house. Ken supplied the signature of Dean Lane, the Palmer House Hilton's GM, along with the logo art for Palmer House. The recipient, Bill Vollmer, was blown away. We did all this in a week. Kudos to all for helping me make you look good. Congratulations to Bill Vollmer on a job well done and a rest well earned!
Frame shown by kind permission of Ken Price of The Palmer House Hilton
Framing designed and executed by Brian D. Flax, CPF