3-D Collage in Frame and Plexibox Combination
A client of ours went on an arts tour of Cuba a few years back and bought a few pieces of art created by Cuban artists. One such piece that she brought back was in the form of a white, open-backed box that has a photo montage of the artist's legs and shoes in the middle, while the entire surface is covered with small, mylar or acetate clovers that are translucent, with some of them painted to blend in with the photo. The clovers are suspended in place by means of a small, brass brad or nail. If you turn the box over, you can see the sharp points. My client wanted to hang the piece on the wall of her home, but was at a loss to figure out how to do so and how to keep the art clean and dust free.
She brought it to us with those questions in mind and the solution we came up with was what we, modestly, refer to as a "MacGyver Moment", where you have to figure out how to solve several problems at once, all of which are in conflict. To answer the question regarding keeping the art clean, I knew it would have to be contained in a plexi-box. However, in order to attach it to the fabric covered wooden strainer back, it would have to be held in place mechanically, without the actual hardware being visible.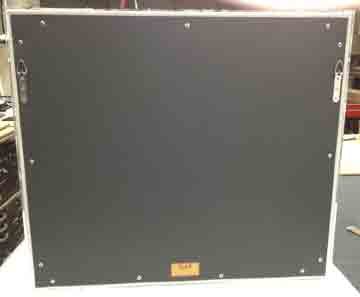 So: first we enclosed the art in an aluminum frame: A Nielsen 22 profile in frosted silver, which provided the structure to be anchored. The thin, frosted silver edge looked great next to the art. It was the perfect height and rabbet depth. Also, we were able to attach metal extensions to the back of the frame channel, which were, then, bolted to the wooden base, which we had covered in a sheet of Alumalite (an aluminum/ polypropylene sandwich composite, sometimes called Dibond) and white linen fabric. See the photos for the details. In that way, we were able to bolt the frame containing the art in place onto the base, all of which was pinned in place by means of countersunk screws on the perimeter of the plexibox. The plexibox was built for us by a local Chicago craftsman who has made plexiboxes for us for many years.



The back was covered with a piece of black mount board and added D-ring hangers. It all worked out superbly and the customer was happy and amazed.

Framing designed and executed by Brian D. Flax CPF
Photo credits: Brian Flax
Images shown by kind permission of the artist, Mabel P. Pujol and our client, Susanna Doolin